Energy Secretary Rick Perry backs building petrochemical hub in Appalachia
Aug 13, 2019, 6:19pm EDT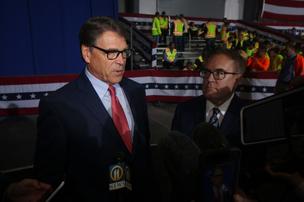 NATE DOUGHTY
Secretary of Energy Rick Perry, left, and Environmental Protection Agency Administrator Andrew Wheeler speak Tuesday afternoon at the Shell Chemical plastics manufacturing plant under construction in Potter Township.
Secretary of Energy Rick Perry praised efforts to build a more robust petrochemical industry in the Pittsburgh region and the rest of Appalachia, saying a more robust "all of the above" energy strategy provided a big boost to the economy and national security.
Perry traveled to Potter Township with President Trump to visit Shell's Pennsylvania Chemicals project, which is well under way in Beaver County and is employing more than 5,000 construction workers.
"I'm a big fan of the concept of developing an all-of-the-above energy strategy in the Appalachian region," Perry said Tuesday afternoon.
He said that as governor of Texas and now in his new role, he's worried about the impact of a large hurricane moving up the Houston ship channel where the petrochemical industry has been based since the end of World War II.
"This could have a devastating effect on the petrochemical industry in this nation, because so much of it is based in that region," Perry said. "If we were to duplicate that here, not only is the economic impact stunning, the jobs that get created, but also this country would have a protection against a major natural disaster."
Perry added: "Best as I can tell, you don't have any hurricanes in the Appalachian valley."
As energy secretary, Perry has a big influence in the types of projects that are built. One big-ticket item that is being contemplated in the tri-state region is the Appalachian Ethane Storage Hub, which would be a mass complex or a series of centers where natural gas liquids like ethane and propane would be deposited for later use. There's been a move to build such a complex and a proposal for funding — the project would cost around $10 billion, in some estimates — is before the Energy Department.
Petrochemical plants, also known as crackers, similar to the one being built by Shell are being pursued throughout the Appalachian region. A second ethane cracker, this one built along the banks of the Ohio River in Belmont County, Ohio, is being considered by PTT Global Chemicals and Daelim. A third project, in West Virginia, recently lost its corporate backer.
The focus on Tuesday's visit to Beaver County was entirely on the Shell plant, while up the road about five miles, two energy-related employers facing closure: The Bruce Mansfield coal-fired power plant that will close in about eight months, and the Beaver Valley Nuclear Power Station, which is threatened with closure by the same owners, FirstEnergy Solutions.
Perry said he was concerned about the fate of coal and nuclear power plants that are to be closed prematurely.
"Every other source of energy is interruptible, but not nuclear, not coal," Perry said. "We need to have a good conversation in this country about coal."
He didn't address specific efforts to save Bruce Mansfield or Beaver Valley.
Perry praised the work of the National Energy Technology Laboratory (NETL) in South Park, where he had visited earlier in the day. He said NETL was working on many innovative projects, including small coal plants that have low to no emissions.
Perry and EPA Administrator Andrew Wheeler pushed back against claims that the Trump administration is rolling back clean-air and clean-energy regulations. Wheeler said that the new Affordable Clean Energy rule will reduce carbon dioxide emissions from the power plant sector by about 33 percent and that methane emissions have been cut by 15 percent since 2000 at the same time that natural gas and liquified natural gas production has doubled.
The difference, Wheeler said, was that the environmental reductions have been met at the same time the Trump administration has been focusing on jobs.
"We've grown our economy at the same time," Wheeler said.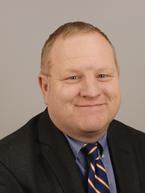 Paul J. Gough Reporter Pittsburgh Business Times