From the Pittsburgh Business Times:
https://www.bizjournals.com/pittsburgh/news/2017/10/05/shell-ccbc-to-host-events-about-cracker-plant-jobs.html
Shell, CCBC to host events about cracker plant jobs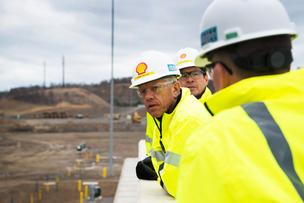 The Community College of Beaver County will host two events next week in partnership with Shell to highlight jobs available at the $6 billion-dollar ethane cracker plant under construction in Potter Township.
On Oct. 12, a career forum called Shell Pennsylvania Chemicals Military Petrochemical Day will be held from 8 a.m. to 2 p.m. in room 9103 of CCBC's Learning Resources Center. The event is open to former service members and will describe the cracker plant project, skills transferable to jobs there, the application process and educational scholarship opportunities.
The second event that day at 6 p.m. in the CCBCÂ Dome is a free career expo, open to the public, designed to inform residents about all the current and emerging job opportunities.
Our goal for the expo is to educate attendees about the types of jobs our facility will provide so people can take necessary steps to prepare, said Shell spokesman Joe Minnitte.  This event will give residents facts about local training programs, types of jobs within our facility, and access to other employers in the region.
An estimated 6,000 workers from building and construction trades will be needed during the cracker plant's construction phase, expected to last through the second half of 2021. Once operational, 600 permanent full-time jobs are expected to remain at the plant in career areas such as process technology, engineering and maintenance.
Veterans can register online for the Shell Pennsylvania Chemicals Military Petrochemical Day.
For the career expo, interested attendees are also encouraged to RSVP online.